Categories:
Fashion
Tara Bailey Shirt, Ae'lkemi Dress and Missguided Boots
Jeremy Choh heads outdoors for FGR's latest exclusive starring model Maddi Fogg. The Australian beauty poses in romantic looks selected by stylist Cheryl Tan. From lace tops to embroidered dresses, Maddi charms in the designs of Alice McCall, Sass and Bide, Valentino and more. For beauty, hairstylist Cara Clyne works on the brunette's slicked back tresses while makeup artist Tracy Terashima gives her a bronzed glow.
FGR EXCLUSIVE: MADDI FOGG BY JEREMY CHOH
Sabo Luxe Top, American Apparel Bra and Tara Bailey Skirt
Alice McCall Dress, Valentino Blazer available at Cara Mia Vintage and Karl Lagerfeld Belt available at Cara Mia Vintage
Alice McCall Dress (worn as top), Fame and Partners Skirt, By G Choker and Missguided Boots
Sass and Bide Top, By G Belt, Maurie and Eve Dress (worn underneath) and Missguided Boots
Tara Bailey Shirt, Ae'lkemi Dress and Missguided Boots
Tara Bailey Shirt, Ae'lkemi Dress and Missguided Boots
Isla Top, Ae'lkemi Dress, By G Earrings and Windsor Smith Heels
Jacinta James Jumpsuit and Choker (worn backwards); Ae'lkemi Bodysuit (worn underneath) and Nine West Heels
Jacinta James Jumpsuit and Choker (worn backwards); Ae'lkemi Bodysuit (worn underneath) and Nine West Heels
Alice McCall Dress (worn as top), Fame and Partners Skirt, By G Choker and Missguided Boots
Alice McCall Dress (worn as top), Fame and Partners Skirt, By G Choker and Missguided Boots
comnum(0) tbcount(0) tbcount(79)
Categories:
Fashion
It's New York Fashion Week, which means the Fashionista team is running around town to bring you the best of what's new from the city's brightest designers. Read on for the looks we loved from the runways and presentations, and click here for even more reviews.
ADAM SELMAN
There are few things I love more than a denim shirt, and this cowgirl-inspired, rose-embroidered Adam Selman version hits all of the right Americana notes. I also enjoyed the red pleated party dress layered overtop — it's a fun update on the slip dress trend that's become ubiquitous recently. The black belt and knee socks lend some downtown edge and sex appeal, but in true Adam Selman fashion, it's still delightfully girlie. —Alyssa Vingan Klein
Selman is the master of making just about anything look sexy. It's not just because he includes naked or near-naked women in his prints — Fall 2017 features a rather lovely floral print with bodies sprinkled throughout — but because Selman seems to worship the female body. It's not often that one finds a Western motif sexual, but Selman's take, which involved a red rose motif and plenty of denim, pulls it off. Who else could make a denim overall dress and striped button-down feel almost scandalous? — Tyler McCall
ADEAM
This was a very strong collection from Adeam. The elaborate, wood-paneled venue of the High Line Hotel lent a great background to the dark, architectural clothes. This look, worn by personal favorite Yumi Lambert, was a standout for me thanks to its witchy detailing, slight bralette and general flowiness. (Witches!) — Maura Brannigan
Another good one from Adeam was this swingy jumpsuit as worn with a sheer Edwardian blouse. I would've been into either item alone, but when styled together they worked like a charm. — Maura Brannigan
BROCK COLLECTION
On the first day of fashion week, current fashion darlings Kristopher Brock and Laura Vassar proved why they won the 2016 CFDA/Vogue Fashion Fund last November. As a live cellist and pianist played "Best I Ever Had" and "Where Is My Mind," Brock Collection sent out a beautifully romantic and modern vision for Fall 2017. Ruby red, rust and black tones dominated the runway, with muted florals woven throughout; crisp taffetas mixed with stiff menswear fabrics, but somehow still looked perfectly fluid. — Tyler McCall
There were looks for work (tailored trousers, pencil skirts), for play (denim, of course, worn with gorgeous coats and plush sweaters), and for evening (gowns fresh from a windswept English countryside). While the whole collection was outstanding, celebrities and editors alike will surely be rushing for the mink pieces — why not have an off-the-shoulder fur coat, after all? — Tyler McCall
CINQ À SEPT
Hot on the heels of my interview with Cinq à Sept's Jane Siskin, the contemporary label's Fall 2017 show at Le Coucou was one of the collections I was most excited to see this week. With fun, unlikely combinations of textures and prints, each piece felt fresh and new, though still representative of Cinq à Sept's brand identity. This particular look — in frothy baby pink and with wearable styling — came towards the end of the runway show, and it's going to be difficult to top. — Maura Brannigan
…Until this look, so sweet and sexy and swingy all at once. Do I like color now? — Maura Brannigan
COLLINA STRADA
Collina Strada's otherworldly "Terraform Mars" collection may have imagined a scenario in which humans have trashed the earth so badly that we have to leave it, but this voluminous denim jumpsuit situation is one I'd be happy to wear on any planet. — Whitney Bauck
With its hardware embellishments — the earrings on the hood! — consider this a quirky and fancy update to your monotonous hoodie. I love the powdery blue hue and how it's paired with ruffled denim and furry shoes. A weird mashup that works so well. — Maria Bobila
CREATURES OF COMFORT
Creatures of Comfort designer Jade Lai was thinking about glamping while working on this collection, and this macrame-infused fuchsia number feels like the perfect way to adultify a childhood summer camp fave. — Whitney Bauck
LA PERLA
La Perla's first New York Fashion Week show was chock-full of supermodels, from Naomi Campbell and Kendall Jenner to Sasha Pivovarova and Liu Wen. The show itself, though, felt a bit scattershot, with plaid, "Clueless"-inspired suiting (chunky, '90s-heels and all) making up one part; slinky, silk slip dresses another; and a finale that included super-bedazzled, sheer dresses and evening looks. The best looks were the ones that hewed more closely to La Perla's bread-and-butter: Sexy but sophisticated lingerie inspired pieces that pared the ornamentation way back. — Tyler McCall
NOVIS
Does fall have to be depressing? Not if you're wearing something from Novis's bright and cheery Fall 2017 collection. Inspired by Danish and Swedish design, there was plenty of jewel-toned color-blocking, stripes and florals. Velvet and thick knits added richness in texture, while menswear plaids provided a foil for the bright colors. — Tyler McCall
ÖHLIN/D
Anne Deane and Jacob Park have proven that they are masters of knitwear, producing covetable, high-quality sweaters in every gauge imaginable. But with their Fall 2017 collection, they're showing that they're equally capable with more fluid and tailored pieces. They were inspired by the "off-duty librarian" a delightful concept that resulted in pieces that looked professional in a slightly deranged way: giant pussy-bow blouses, ruffled corset details in menswear fabrics, tops and skirts held together by oversize safety pins. The standout was this coat with raw-edged details and oversize sleeves. — Tyler McCall
R13
Although designer Chris Leba presented a more elevated collection this time around for his grunge-friendly label R13, I'm glad he didn't stray too far away from his penchant for distressed details, like this oversize cableknit sweater. Pairing it with a turtleneck and plaid pants keeps the look polished while maintaining a cool edge. And can we talk about these floral print boots?! — Maria Bobila
THAKOON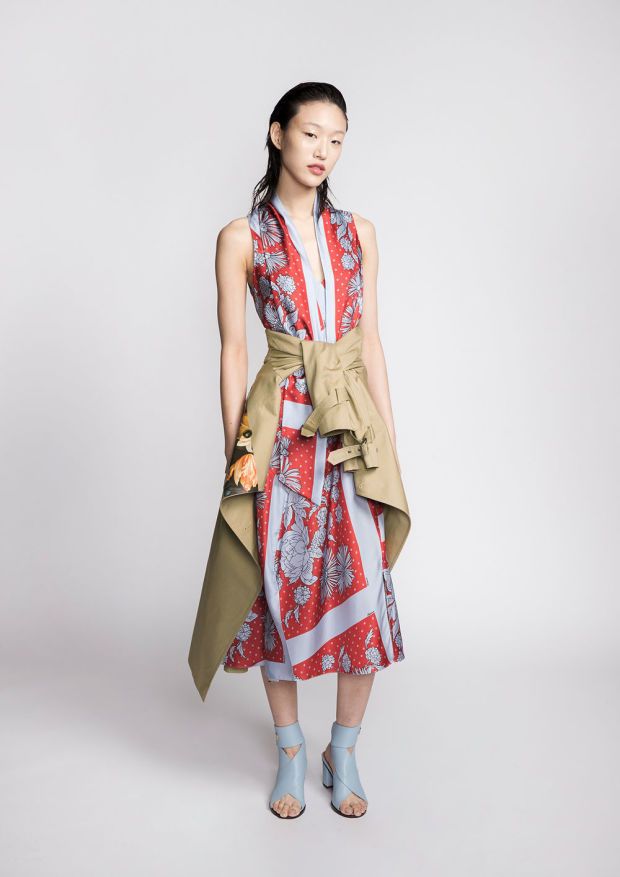 Talk about keeping things simple: At Thakoon's presentation on Thursday night, only eight looks were shown. But sometimes, as Thakoon proved, you only need a few looks to make a statement. He knows his way around a print (probably blindfolded), and Spring 2017 features stunning floral scarf-prints mixed with stripes and crisp khakis. It's just the kind of thing you want to wear to the office on sunny spring days — and should those ever come, Thakoon's Spring 2017 collection is already for sale. — Tyler McCall
If you know me, you probably know that I respect Patagonia a lot and wear a lot of its fleeces with some regularity throughout most of the year. Was this a Thakoon-ified version of Patagonia's Snap-T Pullover?! It sure looked like it, and boy am I on board. — Maura Brannigan
ULLA JOHNSON
With its funky sleeves and corset-like waist closure, this Ulla Johnson look feels like an infinitely wearable way to try a few of-the-moment sartorial motifs without going overboard on the trend bandwagon. Plus, I'm always a sucker for a girl with a shaved head.
comnum(0) tbcount(0) tbcount(69)
Categories:
Fashion
Milla Jovovich on Vogue Taiwan January 2017 Cover
Actress Milla Jovovich lands not one but two covers for Vogue Taiwan's January 2017 issue. Photographed by An Le, the former model gets her closeup in glittering baubles on the first. And the other features her in a Versus Versace jacket with Balenciaga leg warmers.
In the accompanying spread, Milla shows how to pull off a mushroom haircut. Popularized in the 70's, the 'Resident Evil' star makes it look thoroughly modern in oversized coats and tailored jackets. Fashion editor Alvin Goh dresses Milla in the designs of Louis Vuitton, Masha Ma, Marc Jacobs and more for the feature.
Actress Milla Jovovich on Vogue Taiwan January 2017 Cover
Photographed by An Le, Milla Jovovich wears yellow Versus Versace coat
Milla Jovovich gets her closeup in Louis Vuitton jacket
Turning up the shine factor, Milla Jovovich wears Masha Ma metallic coat
Showing some shoulder, Milla Jovovich models Louis Vuitton bustier top with Micol Ragni pants
Milla Jovovich poses in Balenciaga oversized jacket and leggings
Covering up, Milla Jovovich wears Marc Jacobs embellished jacket
comnum(0) tbcount(0) tbcount(96)
Categories:
Fashion
Fall 2017 marks Tumblr's 13th season of sending its best and brightest users to Manhattan for New York Fashion Week. The bloggers who make up this season's class exhibit an especially wide range of creative talent; among them are photographers, video artists and illustrators who will apply their unique aesthetics to their coverage of the fall 2017 shows produced by Made. (You can even visit a selection of the photography bloggers's works on display at the W Union Square hotel, one of several open-to-the-public NYFW events to take advantage of this season.)
"The artists this season are all phenomenal photographers, but only one has had extensive stint at NYFW before," said Tumblr's Head of Culture Content Valentine Uhovski. "It's always inspiring to see how they collaborate, innovate, hustle and experiment with new mediums." Stay up-to-date with a curated feed of all of Tumblr's NYFW content, edited by Uhovski
comnum(0) tbcount(0) tbcount(81)
Categories:
Fashion
Natalia Vodianova on L'Officiel Russia December 2016 Cover
Top model Natalia Vodianova is getting her own Barbie! Slated to hit stores in 2017, the blonde beauty poses with her Barbie version on the December 2016 issue of L'Officiel Russia. This marks the first Russian Barbie doll to ever be produced. And will be released in a limited run under the name Barbie Natalia. In an image captured by Danil Golovkin, Natalia poses with her mini me in a matching white fur jacket and red dress.
In the accompanying spread, Natalia shows off her best doll-like poses. The 34-year-old appears to be captured in a Barbie case, complete with a graffitied background. The blonde beauty poses in pretty pastel dresses and separates styled by Elena Bessonova. Paired with equally colorful heels and accessories, Natalia proves that plastic is fantastic for the playful shoot.
EDITORIAL: NATALIA VODIANOVA FOR L'OFFICIEL RUSSIA DECEMBER 2017
Model Natalia Vodianova channels a Barbie look for the fashion editorial
Natalia Vodianova models Miu Miu embroidered denim jacket
Model Natalia Vodianova wears pink minidress
Natalia Vodianova shines in glittery blue top and pink skirt
Posing in a blue minidress, Natalia Vodianova does her best Barbie pose
Posing in a pink fur coat and floral print dress, Natalia Vodianova stands out against a graffitied backdrop
Natalia Vodianova models brocade jacket with metallic belt
comnum(0) tbcount(0) tbcount(99)
Categories:
Fashion
Kate Bosworth lounges in Sleepy Jones End on End Marina Pajama Shirt
Shopbop recently launched part two of its star-studded #HolidayHowTo campaign. For December, actress Kate Bosworth appears in lounge-worthy fashions. Just last month, we saw 'Pretty Little Liars' star Lucy Hale pose for the fashion retailer. In these new shots, Kate lounges at home in her pajamas. She then gets dressed up in sequins, knitwear and statement jewelry. Kate wears designs from the likes of Rochas, Nili Lotan, Nina Ricci and more in the chill fashion shoot.
Talking about her style, Kate offers some tips for those fashionistas out there. "I adore the color red. If you want to be noticed, slip on a red dress with a slick of red lipstick. It's a siren moment."
KATE BOSWORTH – SHOPBOP HOLIDAY 2017 CAMPAIGN
Actress Kate Bosworth poses in Parker Benny Dress, Autumn Cashmere Boxy Cashmere Sweater and Paul Andrew Rhea Suede Flats
Wearing a pajama inspired silhouette, Kate Bosworth poses in Rochas Floral Blouse and Pants. She also wears Lizzie Fortunato Crater Earrings and Dorateymur Turbo Jet Loafer Pumps.
Actress Kate Bosworth poses in Zhoulii Victoria Pajama Set
Kate Bosworth looks sultry in red Nina Ricci Long Sleeve Turtleneck Dress
Looking cozy, Kate Bosworth models Nili Lotan Adaline Sweater and Jenni Kayne Cropped Baja Pants
Categories

New Posts

Hot Posts